2020/01/01
新年のご挨拶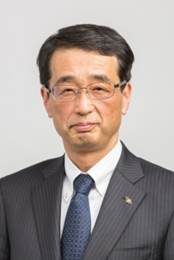 A happy new year!
2019 witnessed a sluggish economy mainly because of the US-China trade friction. The worldwide robot market did not increase as much as we expected. Even in such an economic situation, we developed new robots and started production of large-sized robots in China.
This year, the world economy could be better off since the USA and China reached an agreement in trade, although we may not be able to expect too much. However, the International Robot Exhibition (iREX2019) held in Tokyo last December gathered a historically highest number of exhibitors and visitors. It shows that there exists a strong demand for robotic automation, reflecting ever decreasing birthrate and aging population.
In order to meet such social needs, we will put forward our skill-transfer robot system, the "Successor" this year. We will also launch many new robots and offer innovative solutions using robots. Kawasaki is a well-established robot manufacturer that made Japan's first industrial robot. Making full use of our experience and know-how, we are moving forward to a "Fully-Integrated Robot Manufacturer."
We are looking forward to working closely with you and contribute to society. We appreciate your continued support.
January 1, 2020
Shinji Fujita
Executive Officer, General Manager
Robot Business Division
Kawasaki Heavy Industries, Ltd
Thank you for visiting iREX2019
Kawasaki took part in iREX2019 held last December to showcased many new robots and latest technologies. A great number of people visited our booth throughout the event. Thank you very much for your visit.
The exhibited robots and solutions will be uploaded soon to  YouTube . Check it out!