2021/03/31
Kawasaki Robostage Reopened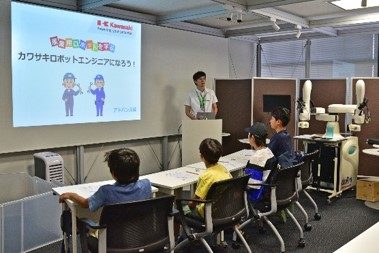 Our robot showroom, Kawasaki Robostage was closed due to COVID-19. It has reopened from March 21. Please come and enjoy. It is free and no reservation is necessary.
Kawsaki Robostage has been holding robot seminars titled, Let's become a robot engineer! for Japanese primary school kids since three years ago. The seminars are always full of reservations. Kawasaki envisions the future society where robots and humans will co-exist and work together. The seminar gives a good idea about the bright future to young yet promising kids.
Online Seminar for kids  
On March 21, an online seminar sponsored by the Asahi Gakusei Shimbun (newspaper for students) was held for primary school kids. Kawasaki took part and introduced various types of robots exhibited at Kawasaki Robostage.
More than 600 primary school students participated in the seminar via Zoom and YouTube. Enthusiastic kids learned a lot about robotics with great interest. (Photos below: Kawasaki Robostage on the air)

Online Seminar for CHERSI  
CHERSI (the Consortium of Human Education for Future robot System Integration) is a government-led organization by industry and academia to support human resource development. As part of its activity, Kawasaki was asked to hold an online seminar for students of the National Institute of Technology, Tokyo College. A Kawasaki instructor gave a lecture about the history and application technologies of industrial robots.
Enthusiastic students learned a great deal of robotics with a visual presentation online.